Legal operations top concern for GCs: More in-house counsel are using specialists, software
Source: https://www.theindianalawyer.com/articles/legal-operations-top-concern-for-gcs-more-in-house-counsel-are-using-specialists-software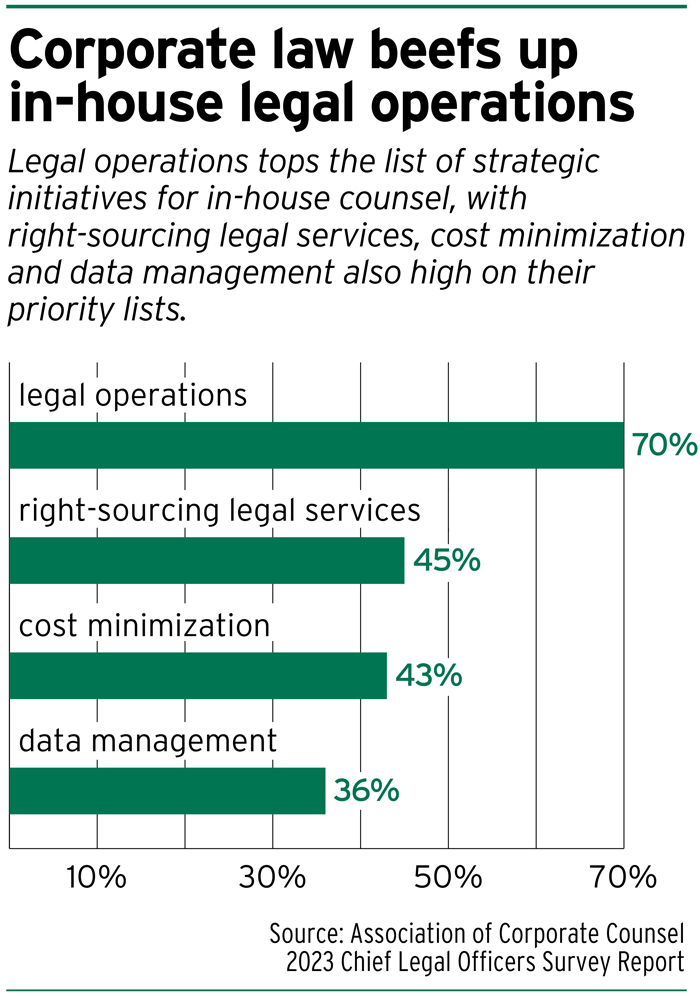 In-house legal counsel are constantly looking for ways to keep their corporate law departments running efficiently.
Whether it's by cutting costs, using the latest technology for things like contract management and other internal processes, or hiring legal operations specialists, corporate counsel are always trying to stay one step ahead on the latest trends.
For Indiana's largest companies like Cummins, or smaller employers like BHI Senior Living, the challenges are similar in pushing for efficient legal operations.
That's borne out in the 2023 Chief Legal Officers Survey, released in January by the Association of Corporate Counsel, in conjunction with Exterro. According to the survey, legal operations was listed as the top strategic initiative in legal departments by 70% of CLOs, followed by right-sourcing legal services, cost minimization and data management.
"Legal operations remain top of mind for many corporate law departments. In fact, the ACC 2023 Chief Legal Officers Survey showed that investment in legal operations remains the top strategic priority for legal departments, both in the U.S. and globally. Additionally, they reported that contract management remains the top technology area they plan to invest in, followed by document management and workflow tools. While everyone seems to be embracing the benefits of legal operations due to increased efficiency and cost savings, that evolution remains underway," Susanna McDonald, ACC's vice president and chief legal officer, wrote in an email to Indiana Lawyer.
Tech tools
According to the ACC survey, more than half of corporate law departments — 58% — have a professional dedicated to legal operations today, up from 47% five years ago and 21% in 2015.
Jay Rumbach, vice president and general counsel for BHI Senior Living in Indianapolis, said he can see the benefit of adding a legal operations specialist in-house if a company's budget allows for it.
Rumbach said BHI has a lean legal department, with him serving as general counsel assisted by a couple of legal interns. Their legal support comes from Practical Law and Westlaw software.
"Practical Law is good for familiarizing one's self with core areas of the law," Rumbach said.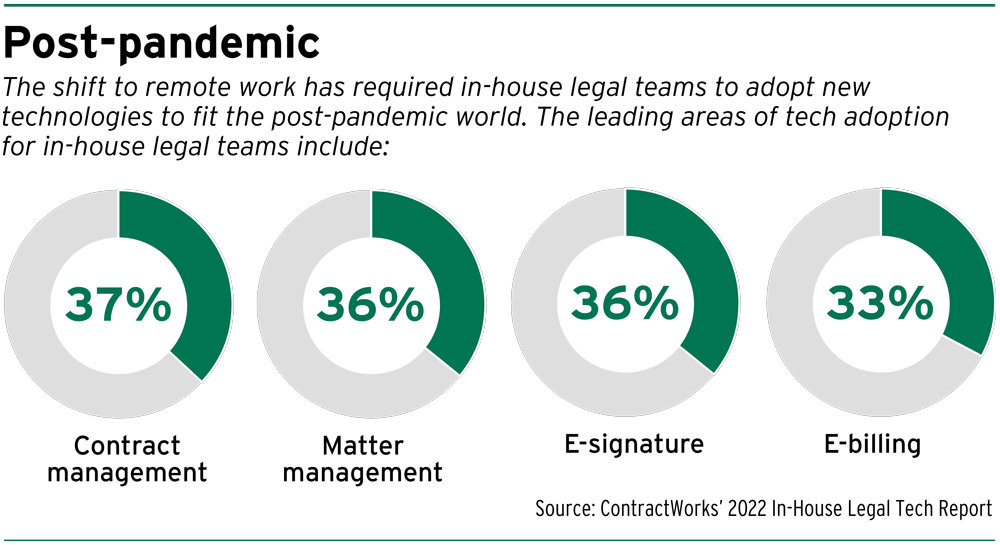 BHI has also explored using software to help manage contracts with vendors. There are a lot of options available software-wise for in-house counsel on the contract management side of things, Rumbach said.
Right now, the company's contracts with its residents are maintained with a different piece of software that's Health Insurance Portability and Accountability Act, or HIPAA, compliant.
BHI is also still using outside counsel to a significant degree, Rumbach added. Additionally, it has picked some core technology tools to provide value to its constituent communities — something he said he ponders often.
At Columbus-based Cummins Inc., Zaneta Handa, director of legal operations and chief of staff to the company's chief legal officer, said the engine maker employs three in-house counsel operations staffers. Those staffers are part of efforts to find cost-efficiencies while also ensuring quality.
Part of the job of a Cummins legal operations specialist is to receive legal requests and route them to the right person, Handa said.
Staying on top of the latest technology trends in the corporate legal world is always a hot topic of conversation, Handa added.
"The technology piece is really, really big for us," she said.
Learning from others
Handa said Cummins' legal operations team attends an annual conference, hosted by CLOC Global Institute in Las Vegas, that highlights the latest trends in legal operations. The conference is being held this year May 15-18.
Handa said the conference gives her team the opportunity to network and hear about what's going on with other corporate law departments.
Artificial intelligence and its use by corporate counsel, as well as controlling external counsel spend, are two subjects that often come up, Handa said.
"Do more with less," she said, explaining the underlying mantra.
Rumbach also said he's interested in how many companies with in-house counsel are exploring the use of artificial intelligence in their legal operations.
"We haven't targeted that yet, but I think that's an emerging area," he said.
Rumbach added that he could see a use for AI for drafting documents that might not need as much legal analysis.